Rick Erickson, Director of Music
With the parish's commitment to sacred music as a key ministry of the church, Rick Erickson was appointed Director of Music and Organist at St Nicolas in 2021. He has the joy of working with the Choir and is responsible for leading and coordinating the music program as an effective and significant part of this overall ministry.
He formerly served as Organist and Choirmaster at several prestigious congregations, including All Saints Woodham, Holy Trinity Royal Garrison Church in Windsor, and Christ Church Winnetka, and was head of music and organist at Illinois College. Having studied in Chicago, he holds post-graduate degrees in church music and in theology, and under the mentoring of Sir David Willcocks undertook further studies at Cambridge.
In addition to private teaching and composing he directs the Guildford Diocese Mothers' Union choir.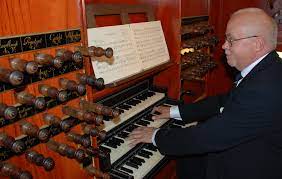 The organ & piano
We have a fine 3 manual organ, from the workshop of "Father" Henry Willis. The piano is a small Broadwood grand. The church itself has a very good acoustic for music, and is often used for concerts.